Thank you BJ's Wholesale Club for sponsoring this post.
Hey new parents! Welcome to the club! You just brought your cute bundle of joy home! As a mom of 2 babies under the age of 3, I would love to give you an awesome parenting hack!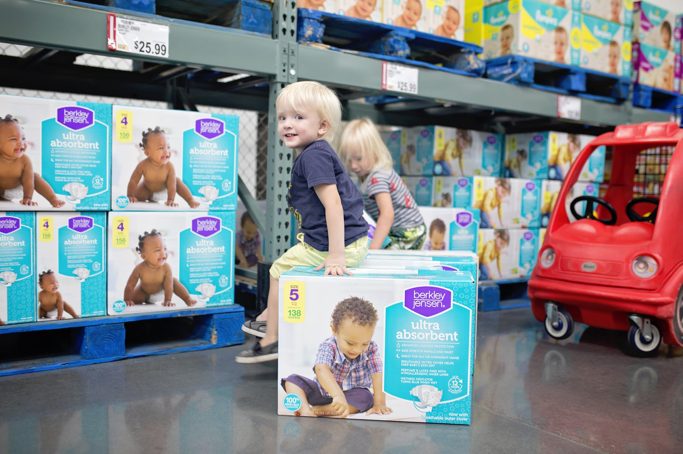 Shop at BJ's Wholesale Club! You are going to be buying so many diapers and wipes, you should buy in bulk! BJ's Wholesale Club has the baby brands you know and love but they also have their exclusive Berkley Jensen brand. BJ's members know and love the Berkley Jensen brand for its value, quality, and incredible baby products. You seriously won't be able to tell the difference between BJ's exclusive Berkley Jensen brand and leading national brands. Every Berkley Jensen item – yes, even their diapers and wipes – has been carefully engineered and tested to deliver superior performance and reliability. We go through so many diapers with 2 kids under 3 years old. Quality it important, but so is price! The prices of Berkley Jensen Ultra Absorbent Diapers and Berkley Jensen Baby Wipes are so good and they are backed by a 100% money back guarantee. Saving money on the stuff I need is my favorite feeling.
So from the moment we signed up with BJ's, the staff was super helpful. It's hard to fill out forms with a baby! I handed the amazing member service representative my identification card and she easily set it up for me.
Walking around our local BJ's, the staff was so nice. They stopped and smiled at the boys and asked us if we needed any help at all. The club is full of things we need, it's clean, and everyone is friendly. I'd be friendly too, if there was a donut shop on site. YES, our local South Carolina BJ's has donuts and coffee. Moms love coffee, y'all!
Take it from me, you should become a member at BJ's. The staff is wonderful, and BJ's Wholesale Clubs are located all around the United States: Connecticut, Delaware, Florida, Georgia, Maine, Maryland, Massachusetts, New Hampshire, New Jersey, New York, North Carolina, Virginia, Ohio, Pennsylvania, Rhode Island, and South Carolina. Our family saves about $500 a year by shopping at BJ's! If that's not enough, BJ's is also the only membership warehouse club to accept manufacturer's coupons.
BJ's also offers Shop BJs.com – Pick Up In Club, y'all. Which is perfect for days when I need groceries, but am dealing with the sleepless early baby nights. I can buy those awesome Berkley Jensen diapers and wipes online and ready for pickup at the club within two hours, along with extra coffee.
BJ's is my new favorite one-stop shopping destination for everything I need. They offer low prices and awesome quality on their baby products. They also allow me to spend less time shopping, and more time with my baby!
Did you know that you can get a $25 BJ's Gift Card for becoming a Member? And I will get one too for referring you! I really enjoy shopping at BJ's and I think you will enjoy shopping there, too. Just click here. Shop BJ's Wholesale Club HERE.
I was selected for this opportunity as a member of CLEVER and the content and opinions expressed here are all my own.